March is coming…!!! Well, we are all anxiously expecting March's arrival as soon as possible. Why?? With the celebration of Holi, this delightful month that signifies the end of the winter ushers in the spring season as well as the explosion of colours, happiness, and joy in everyone's hearts.
The festival of Holi symbolises the commencement of spring and the triumph of goodness over wickedness. With vivid colours and delectable sweets, it is a season of joy, love, and community. On the day of Holi (March8th, 2023), individuals toss their favourite gulaal (or coloured powder, english truly is a funny language 😉 ) into the air and splash it on others, turning entire streets and towns red, green, and yellow etc.
We already know that you are thrilled to embrace this wonderful day with the person(s) you truly adore and love to spend every moment with. Don't worry; we've put up a selection of incredible Holi festival products we found on Amazon that you simply must have throughout this spectacular Holi season.
1. Piepot Herbal & Organic Holi Colours – ₹699
Are you planning to celebrate Holi in 2023? Finding it difficult to choose the ideal colour for your loved ones that are safe? Bring our stunning Piepot herbal & organic Holi colours that are made of natural, organic, and herbal ingredients. The premium 6 gulal colours contained in this pack are Orange, Red, Green, Purple, Yellow, and Pink. This is the ideal environmentally friendly and safe product with eco-friendly designed packaging that would make a lovely gift for loved ones, friends, family, and coworkers because you can smother them all over with colour and their skin will not complain.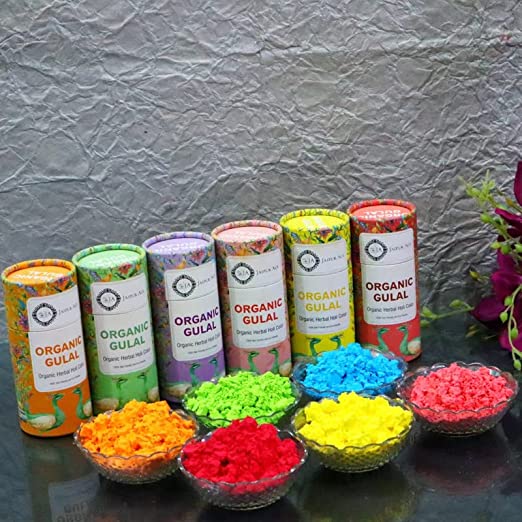 Features: –
100% Organic, Natural & Herbal
Safe & Eco-friendly
Free of harmful chemicals
Handmade & Skin-friendly
Easy to clean & wash
2. Water Balloons Filling Pump – ₹419
Get this gorgeous equipment water balloons filling pump to quickly replenish your water balloons, thoroughly drench your opponent, and relish the Holi celebration with your loved ones. Insert a water balloon connected to the pump's nozzle, push the device nine times, then depress the top lever to rapidly fill the balloon with water. This water pump is excellent for recreational activities. Whether swimming, swimming pool, beach gatherings, or other water sports, this Water Pump is perfect. Enjoy the Holi holiday by using a water-filling pump or water pistol and by shooting balloons at your family and friends.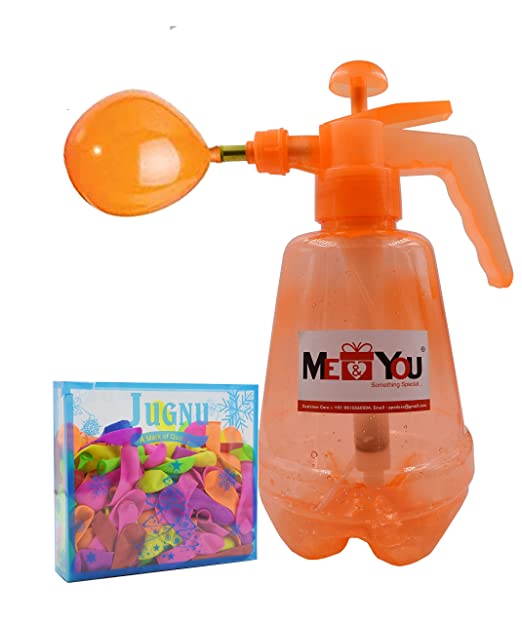 Features: –
Fill water with balloon in seconds
Simple to Use
Kids Friendly
Perfect pump for swimming & beach parties
Lightweight and strong
Easy-to-use pump and handle
3. Beliky MultiColor Fog (5 packs) -₹425
One of the greatest products you can pick out for your Holi party in this season of 2023 is this Beliky multi-color fog pack. The six vibrant colours of love will add additional spice to your enjoyment whether you are planning a party at your house, a hotel, or another nearby location. Make as many reels as you want with your gang by using this affordable yet safe Holi colour fog can!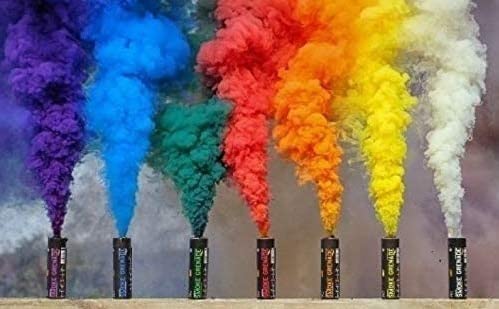 Features: –
Safe for Skin
Perfumed, Natural
Silky and Soft
100% Non-Toxic
For External Use Only
Made of Starch, Herbs Natural & Permitted Food Grade Ingredients
Non-Edible Product
Eco Friendly
4. Pichkari or Combat Water Gun -₹1,599
Are you seeking the ideal pichkari for the Holi season? Look no further than our pichkari or combat water gun. The Decorative Buckets Water Blaster has a larger shooting range (8 to 12 m) much greater distance than other water pistols, protecting you from your rivals and giving you the opportunity to win all your Holi water fights. Holi water guns with decorative buckets can store between 1.2 and 2.2 litres of water. So, now it's simple to Fill and Fire!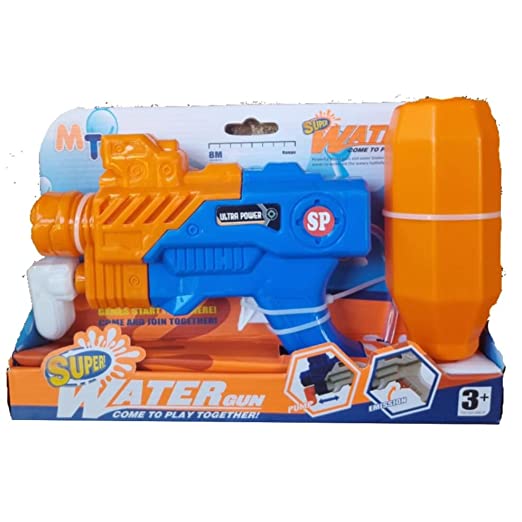 Features: –
Easy & high quality pichkari
Long range soaking (8 to 12 m)
Large capacity (1.2-2.2 L)
Easy to fill
Easy to fire!
Endless fun 🙂
5. Multicolor Water Balloons for Holi – ₹264
Try these brand-new multicoloured water balloons this holiday season; they'll make your holi party more exciting, entertaining, and enjoyable. It's a breakthrough approach to avoid wasting time, aggravation, and aching fingertips to fill and knot each water balloon individually; instead, you may simply turn off the water source, spin the balloons gently, and the knotting will take care of itself! Simply attach one bundle to a running faucet to be amazed at how quickly these balloons fill up and then attack your buddies who are still filling up their first balloon, speed is fun 😉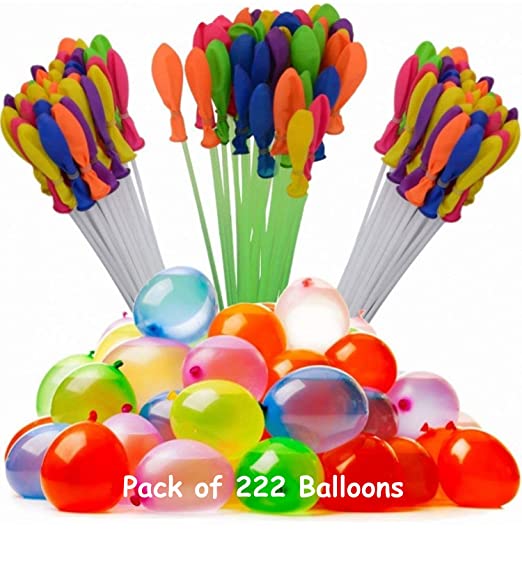 Features: –
Pack of 6 Bunches (222 Balloons)
Made with Non-Toxic Rubber
Safe for children
Easy knotting
6. Decorative Holi Colour Thali – ₹699
This decorative holi colour thali or bucket conveys the message of love, togetherness, and truthfulness with the ideal combination of organic colours and alluring perfume. Anytime you spray Holi colours on someone, you commit to always being honest with them. So, while celebrating Holi at home, this Holi tilak thali is perfect for you. These can also be utilised for Holi parties, Holi decorations, or even as a gift for housewarming,diwali etc.
Features: –
100% authentic natural gulal
Bright and non-toxic colour powder
Easy to use & clean
Skin-friendly for both kids and adults
7. Holi Festival Colour Tube Combo Pack – ₹329
Bring this holi festival colour tube combo pack basket filled with clean & harmless Holi supplies, such as neon body paint, face paint, and holi ke Rang. This gulal is absolutely smooth and shiny, beautifully filtered, fragrant with natural scents, and a pleasure to enjoy with friends and loved ones. It is entirely homemade and is a sure way to enhance your Holi in 2023!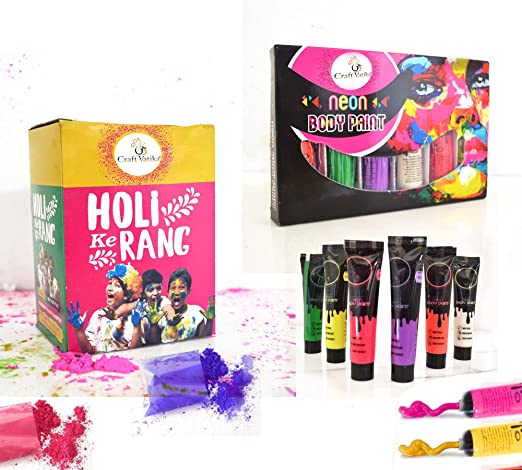 Features: –
Neon body paint tubes
Safe for your skin
Eco-friendly
Easy to clean and wash
Handmade with natural fragrances
Summary-
So, are you prepared to add our top-notch products to your Holi celebrations to make them incredibly exciting? I'm sure you are…!! so, stop scrolling down right away and make your purchase with us immediately! From our team at the Simple Indian we wish you all a very happy Holi 🙂 May you get to celebrate this day with your loved ones and make it a memorable one.