In this ever-growing confusing market of smartwatches it is hard to find the best smartwatch for women. Like it or not it has a become a necessity for the vast majority of us who want to remain connected and monitor their wellness and fitness objectives.
Women's smartwatches are the ideal fusion of an activity tracker along with some smartphone capabilities in a single piece of equipment. The finest smartwatches for women are made to provide quick access to everything, from tracking your menstruation periods to making you informed of critical messages from your situationships 😉
There are numerous smartwatches on the market. Some have upscale characteristics, while others are more affordable. We have attempted to bring you the best combination of luxury and affordability with the top smartwatches for women in 2023.
How To Choose or Buy The Best Smartwatch For Women In India?
Women have a distinct viewpoint different from men when it comes to selecting a smartwatch. Women frequently prioritize qualities that are both fashionable and functional.
After all, a smartwatch is more than just a piece of technology; it's also a luxury accessory. Here are a few things to think about while selecting the best smartwatch for women-
Design and Style
if you're looking for a smartwatch or the best smartwatches for woman, You want a smartwatch that is fashionable in addition to being practical. Think of the watch's style, taking into account its size, shape, and colour.
Some ladies want a slender and elegant style, while others favour a more pronounced and assertive appearance. If you want leather, metal, or silicone for the strap material, you should also take that into account.
Features
Smartwatches provide a variety of capabilities, such as notifications, GPS, and health tracking. Think about the qualities that are most important to her and her way of life.
Do you enjoy working out and require a watch that can monitor your workouts? Or do you require a watch that will enable you to stay linked to your phone while you are on the go? you must create a list of the features you desire in a smartwatch, then pick one that suits your requirements.
Battery Life
A smartwatch can only be helpful if its battery life and power can last the entire day. Think about the smartwatch's battery life and power performance and how frequently you really have to reset it. Although some watches may operate for days, others require charging every night.
Price
Pricing for smartwatches varies from affordable to high-end premium smartwatches. Take into account your spending limit and your willingness to invest in a smartwatch.
Keep in mind that just because a smartwatch is more pricey doesn't always imply it's the ideal option for you. You may choose a smartwatch for women that not only satisfies your demands but also accentuates your sense of style by considering these elements in mind.
Summary Table: List of 10 Best Smartwatch For Women India With Price List
The Best Smartwatches you can Buy Today In India
1. Apple Watch SE (GPS + Cellular, 40mm) – ₹32,900
Best Overall
An elegant smartwatch that provides cellular and GPS connectivity is the Apple Watch SE (GPS + Cellular, 40mm). The watch is small sufficient to be worn pleasantly on the wrist the whole day thanks to its 40mm screen, yet it still manages to pack in a variety of powerful features.
The watch has a S5 dual-core CPU that enables quick and accurate performance. It also includes a number of fitness and health tracking features, including as an always-on altimeter, sleep tracking, and heart rate monitoring.
While your iPhone is not nearby, you can still use the watch's cellular connectivity to make and receive calls, send and receive messages, and make easy mobile purchases with Apple Pay. For anyone searching for a fashionable and useful wearable device, the Apple Watch SE (GPS + Cellular, 40mm) is a strong and adaptable smartwatch.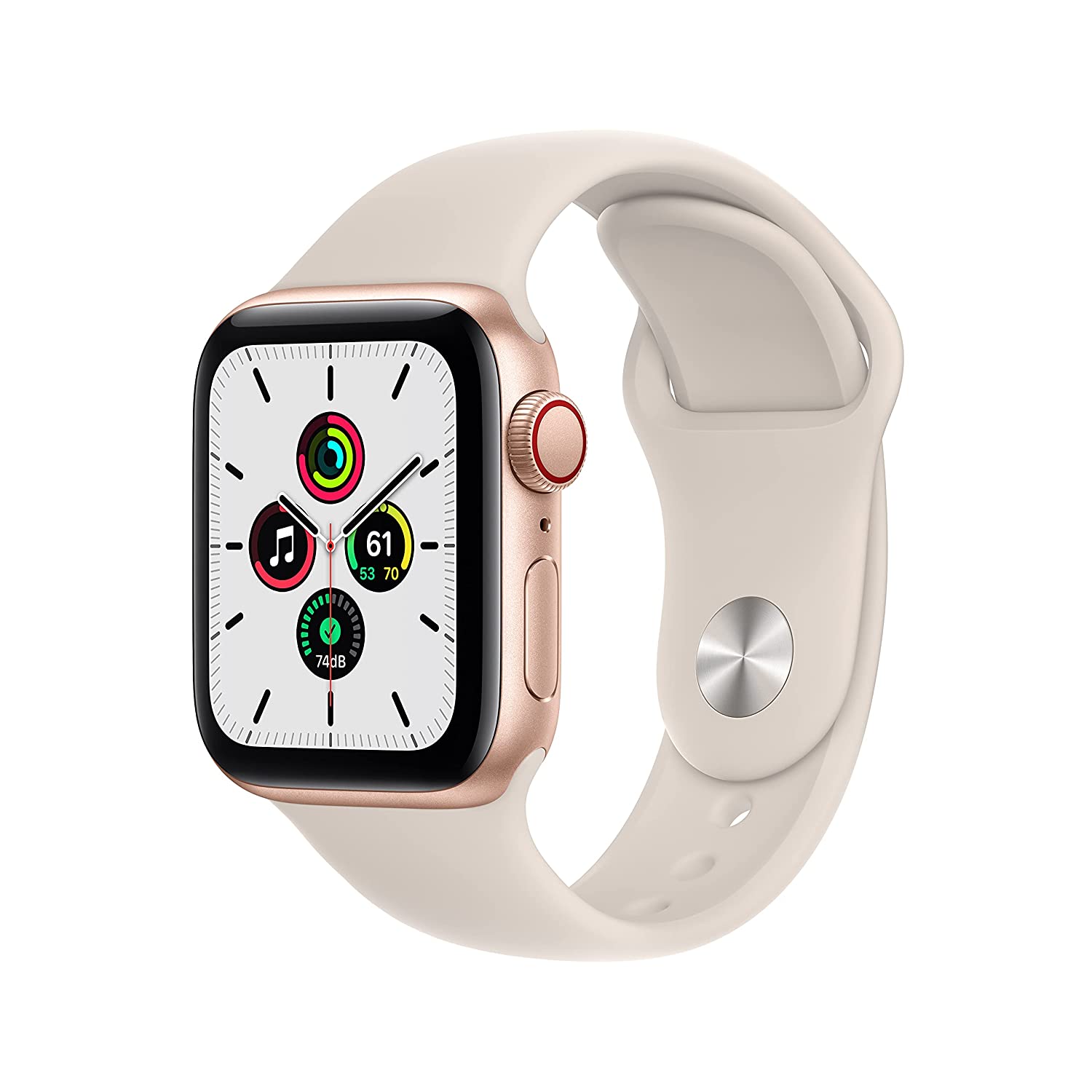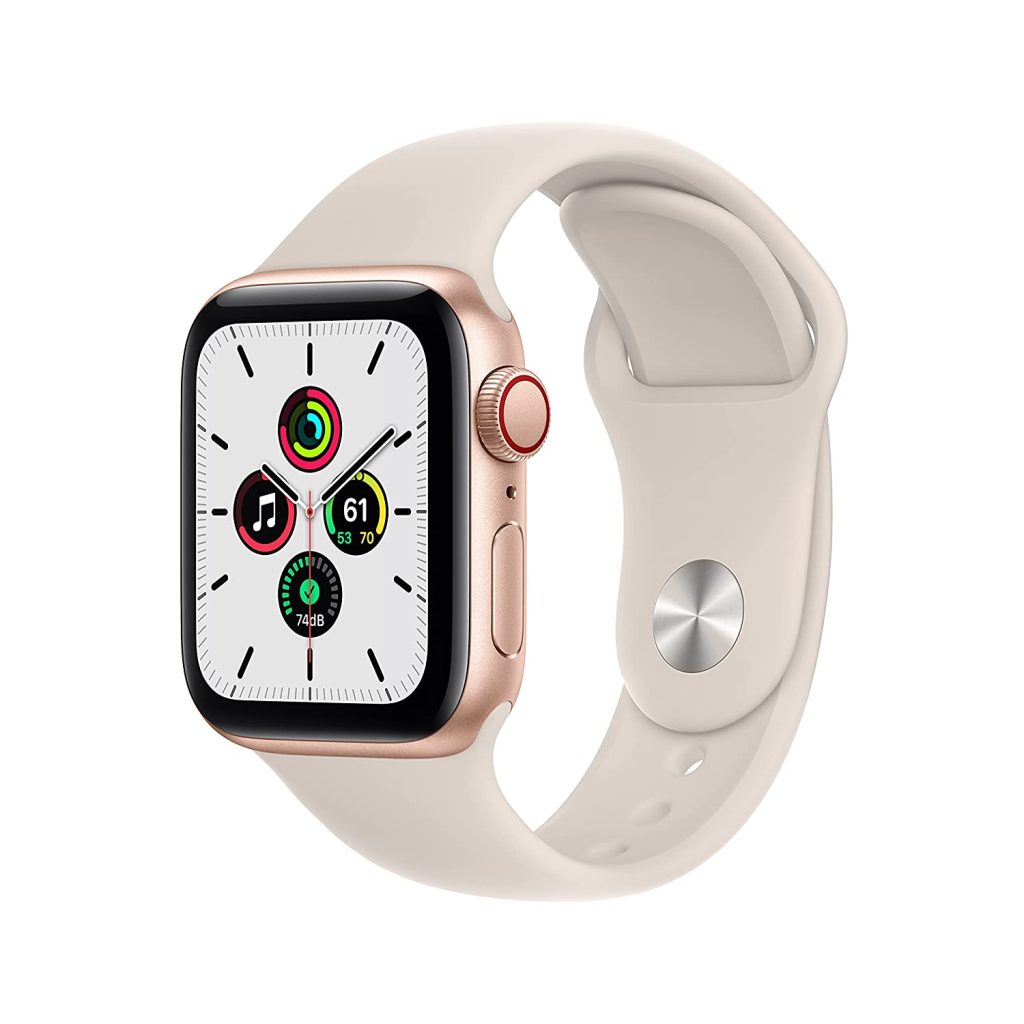 Specifications
Brand: Apple
Model Name: Watch SE
Screen Display Size: 40 Millimetres
Compatible Devices: Smartphone
Colour: Gold Aluminium Case with Starlight Sport Band
Shape: Square
Special GPS,Hear: 60GPS,Heart Rate Monitor,Sleep Tracker,Wireless Charging,Phone Calls,Text Message,Activity Tracker & much more.
Warranty: 1 year
Pros
Offers both GPS and cellular connectivity
Stylish and compact design with a 40mm display
S5 dual-core processor for fast and responsive performance
Health and fitness tracking capabilities, including an always-on altimeter, sleep tracking, and heart rate monitoring
Allows for phone calls, messages, and mobile payments through Apple Pay
Cons
Limited customization options for watch faces and bands compared to other Apple Watch models
Battery life may not last as long with cellular connectivity enabled
2. Fitbit Versa 3 Health & Fitness Smartwatch for Women along with GPS – ₹16,940
Value for Money
Are you looking for a one of the best smartwatches for women? maybe a smartwatch featuring voice assistance, 24/7 heart rate monitoring, built-in GPS, and a premium feel? What you require is the Fitbit Versa 3. This smartwatch is one of the best smartwatches for women that offers a choice of five simple, timeless colours and features a smooth silicone strap with a soft-touch finish. If you dream of elegance on your wrist, this it it! You can manage music, track your sleep, use Google Assistant or Amazon Alexa, along with other capabilities of the watch. One of our top picks from the list having battery life of 6+ days because of it's reliability and performance!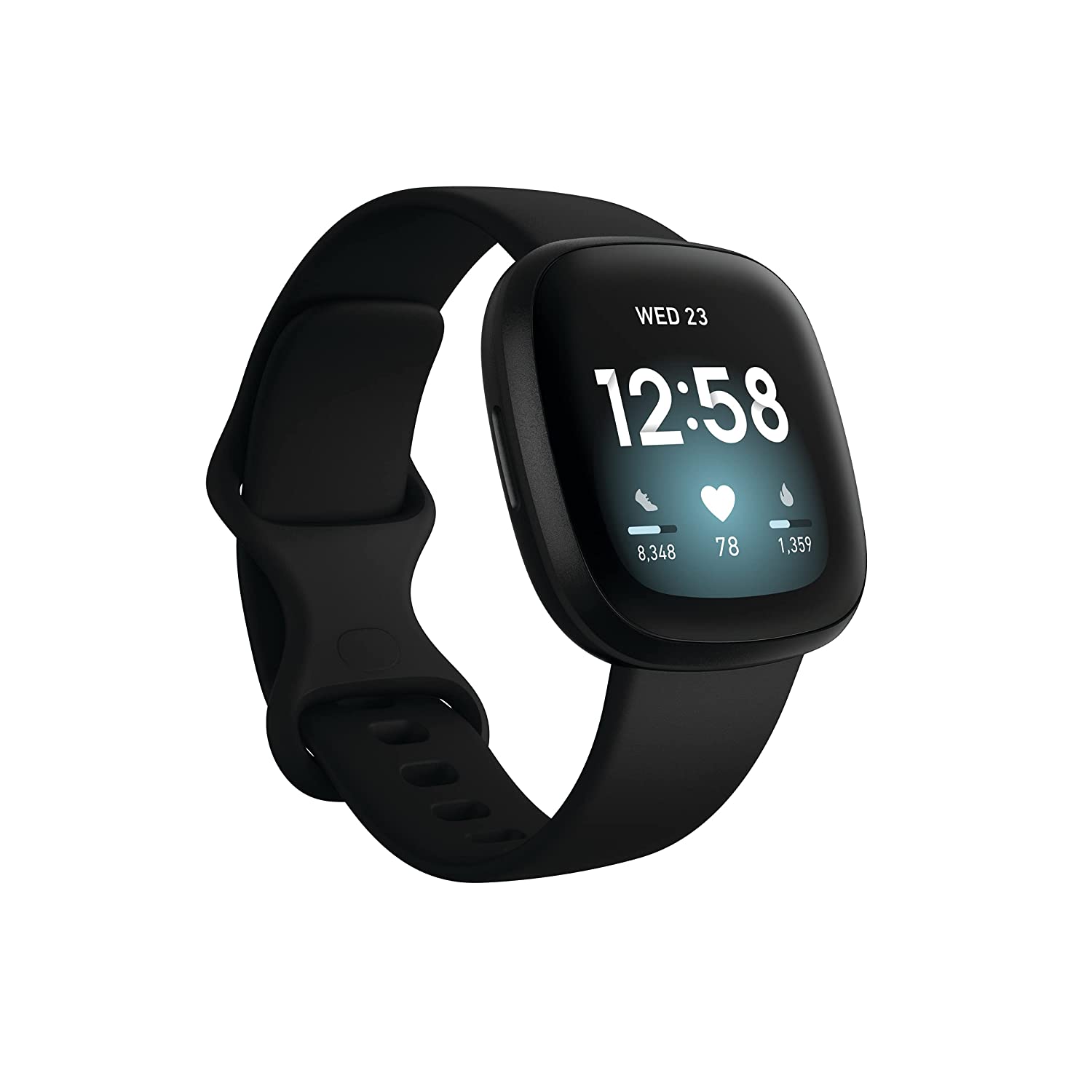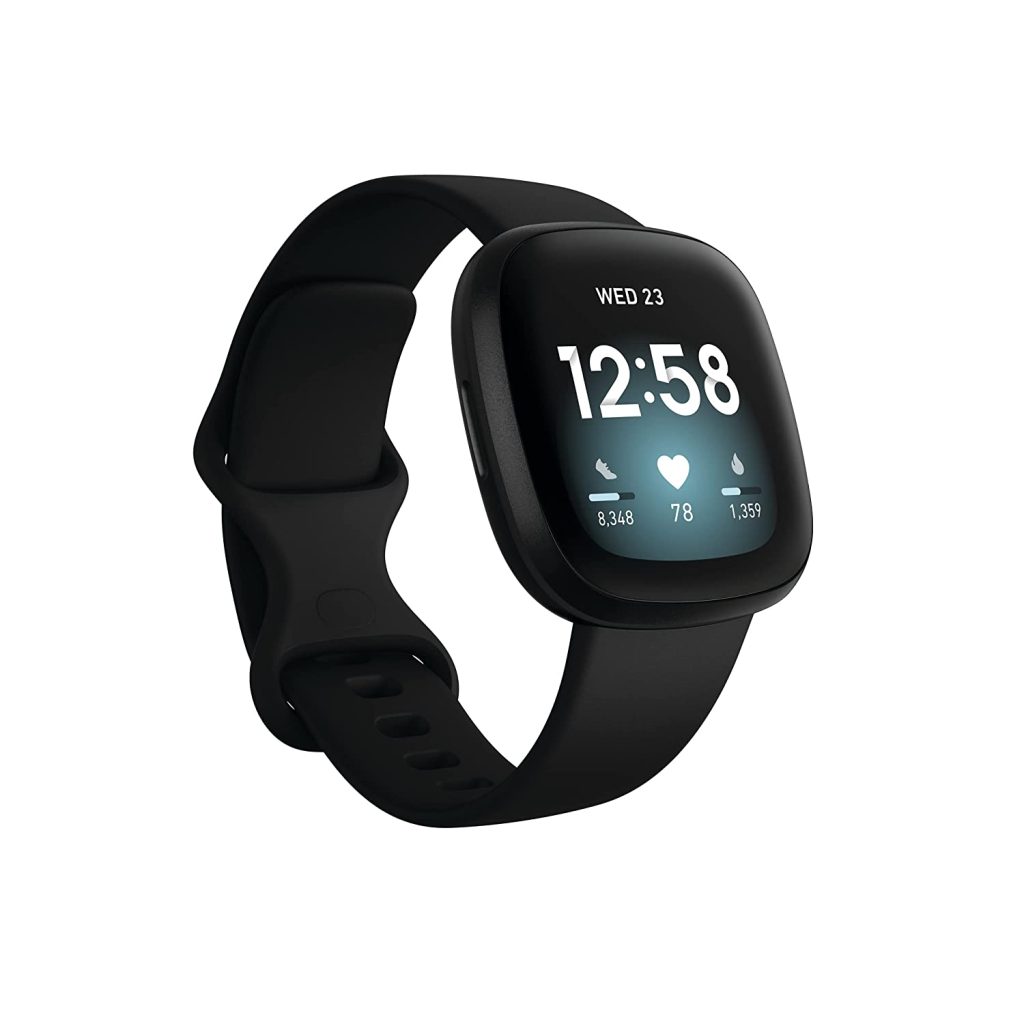 Specifications
Brand: Fitbit versa
Screen Display Size: 1 inch
Compatible OS: Android, iOS
Colour: Black, Blue, Gold, Multicolor, Pink
Battery Life: 6 days
Special Features: GPS Distance Tracker, Multisport Tracker, Activity Tracker, Notifications, Heart Rate Monitor.
Warranty: 1 year
Pros
Provides voice commands and a delightful hands-free experiences with both the Amazon Alexa and Google Assistant integrated
Battery life of more than six days with a full charge; provides a day's worth of battery performance in just 12 minutes when using fast charging
Integrating GPS
Design that is comfortable; User-friendly UI
Cons
Unbuckled strap
Fewer apps
GPS tracking could be more effective
There is no support for downloaded content via Spotify
3. Apple Watch Series 8 [GPS + Cellular 41 mm] – ₹52,400
If Money is no Object
The Apple Watch Series 8 [GPS + Cellular 41 mm] is the latest addition to Apple's popular smartwatch lineup. The watch features a stunning always-on Retina display that is 20% larger than its predecessor, making it easier to view notifications, messages, and other information.
It also comes equipped with a range of health and fitness tracking features, including heart rate monitoring, ECG, blood oxygen level tracking, and sleep tracking. With its cellular capabilities, the Apple Watch Series 8 allows you to make and receive calls, send and receive messages, stream music, and access apps even when you are away from your phone.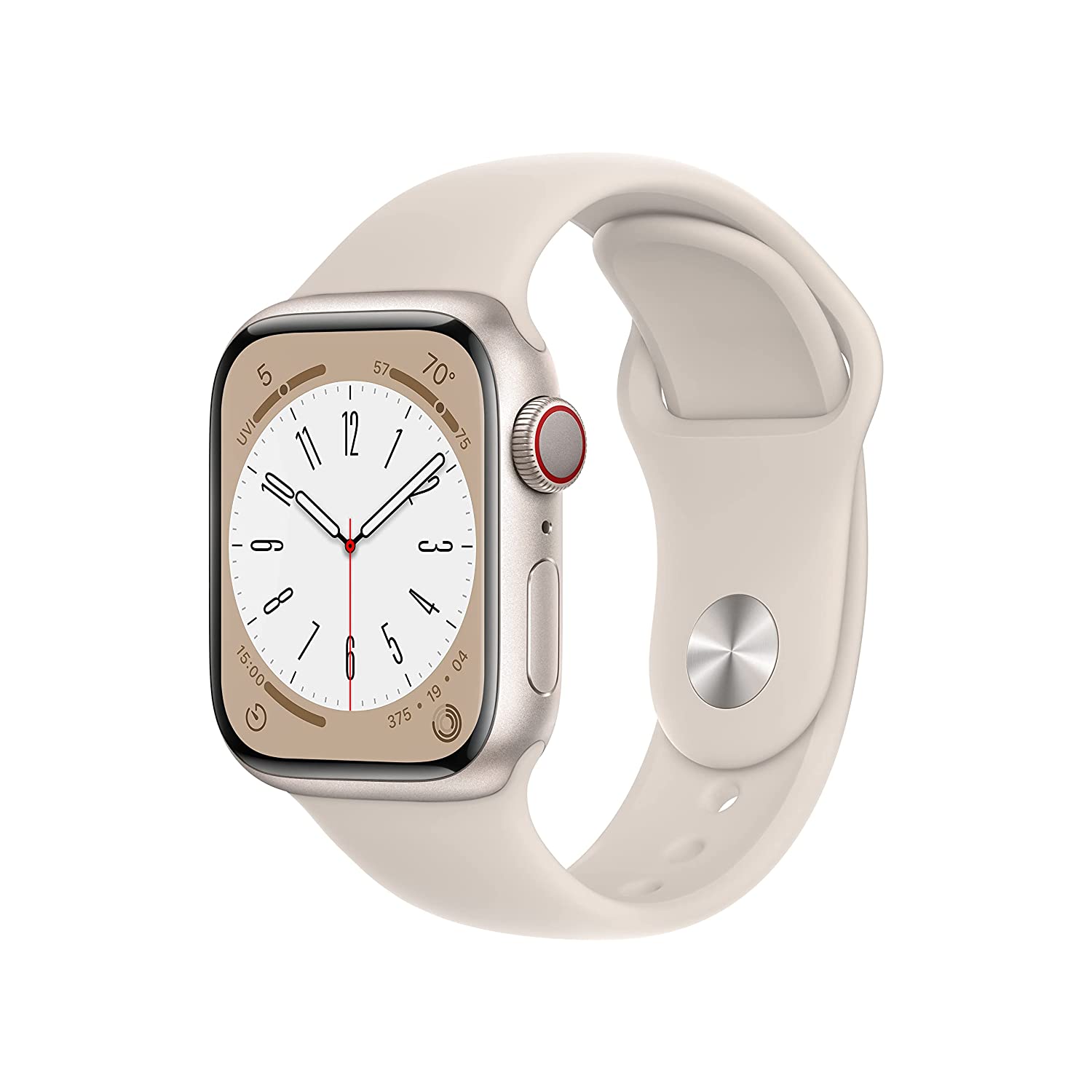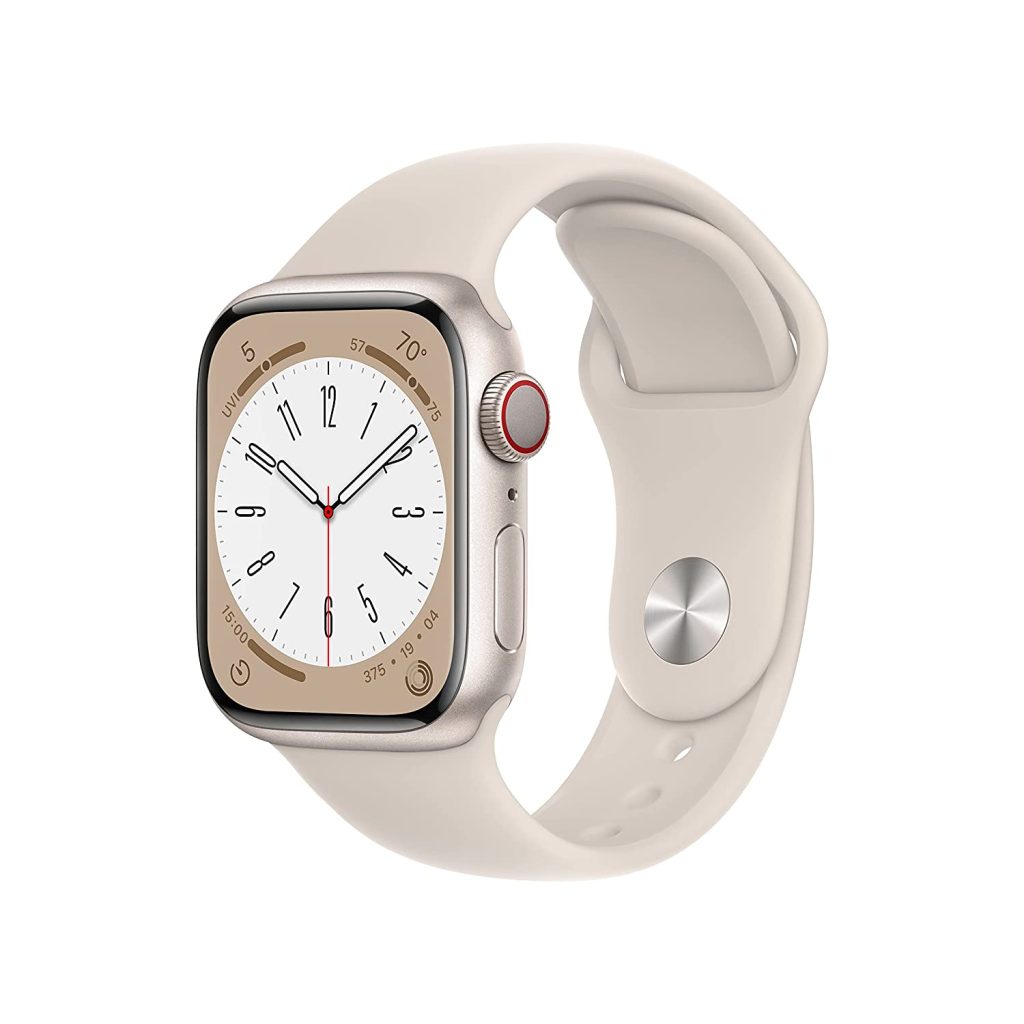 Specifications
Brand: Apple
Included Components – Case, Band, 1m Magnetic Charging Cable
Colour: White
Generic Name – Apple Watch Series 8
Item Weight – 420 g
Speaker – Built-in speaker
Pros
Larger always-on Retina display for improved visibility
Comprehensive health and fitness tracking features including heart rate monitoring, ECG, and blood oxygen level tracking
Cellular capabilities allow for calls, messages, and app usage without a phone
Water-resistant design suitable for swimming and water activities
Highly customizable with a wide range of watch faces and bands to choose from
Cons
Battery life may not last a full day with heavy usage
Some users may find the watch interface to be complex or overwhelming at first
4. Fossil Gen 5E Smartwatch for Women with AMOLED Screen – ₹14,795
This luxury women's smartwatch from Fossil embodies immaculate style and functionality, making it difficult for Fossil fans to resist buying it. The Wear OS by Google, which functions on virtually every Android and iOS smartphone, powers the Gen 5E Fossil Smart Watch.
It is the best watch that serves, as your constant training partner by keeping track of your activity objectives and an eye on your vital signs. To provide you with a wholesome digital experience, there are numerous additional features including Bluetooth calling, music control, multi-day battery modes, etc.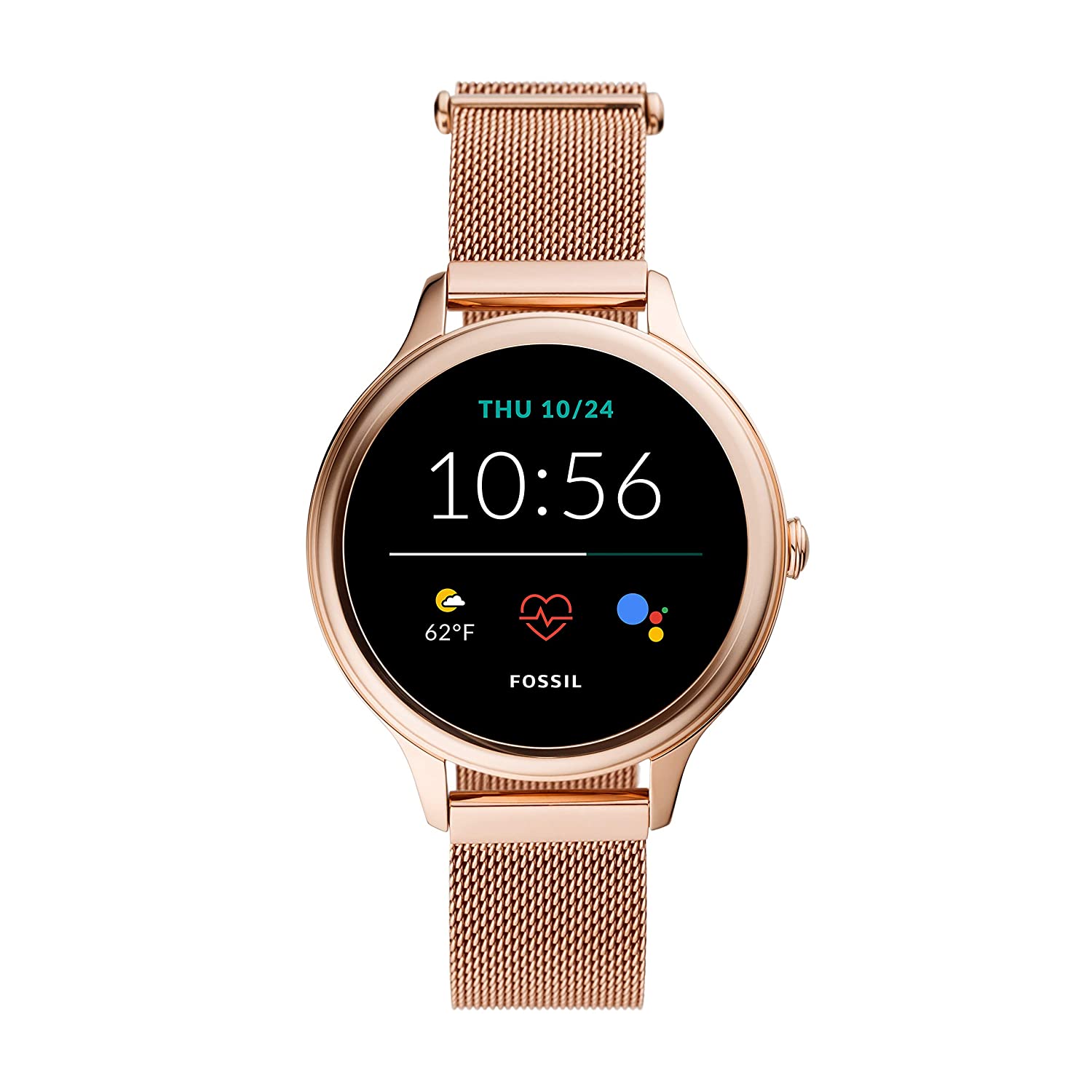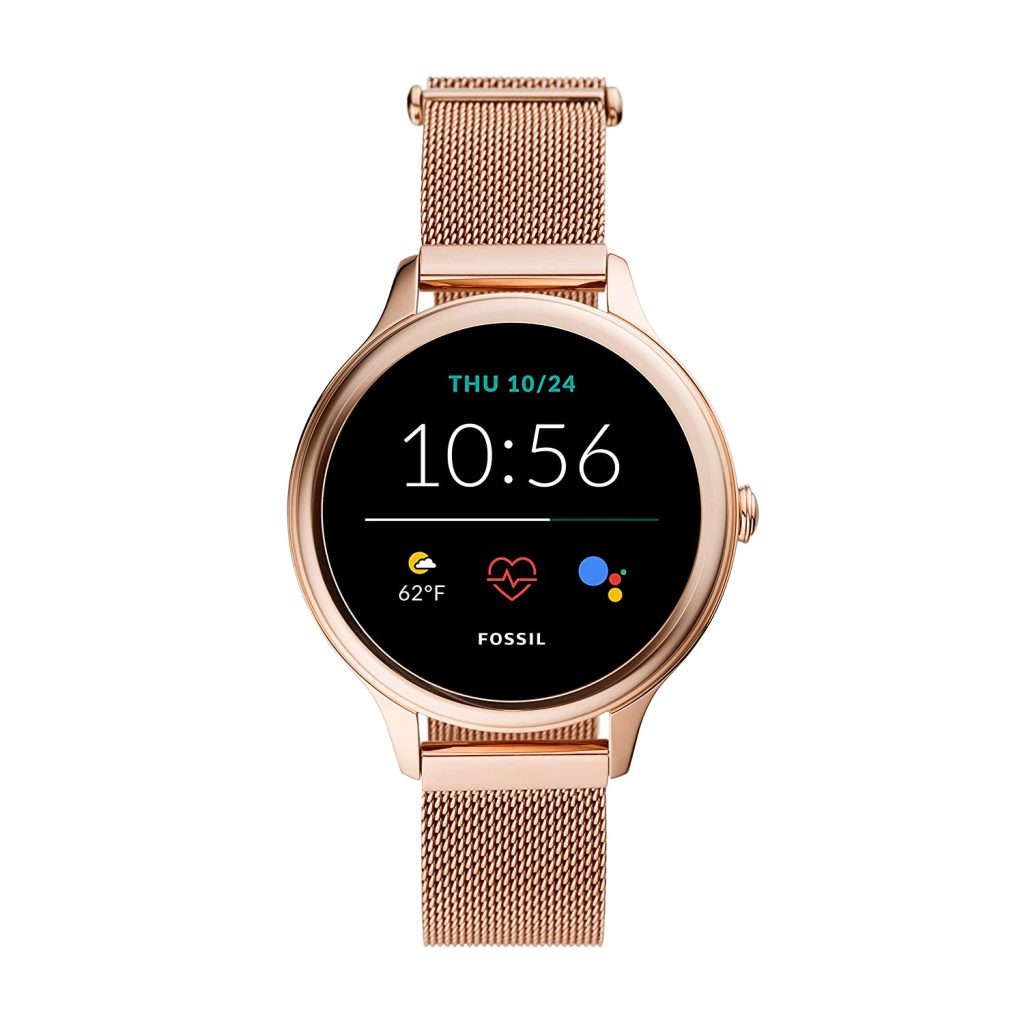 Specifications
Brand: Fossil
Screen Display Size: 1.19 inches
Compatible OS: Android, iOS
Colour: Rose Gold
Days of Battery Life: 7 days
Special Features: Fast Charging, Multi-day Battery Modes, Calling Option.
Warranty: 1 year
Pros
A fashionable watch replacement with a luxurious design.
Speaker and microphone for phone calls built-in.
The Virtual Assistant.
GPS and NFC capabilities.
A variety of wellness-related features.
Quick charging (80% of the battery in one hour).
Multi-day power mode, which adds a few hours to battery capacity.
Cons
Battery life may not last as long as other smartwatches on the market
5. Amazfit Bip 3 Smart Watch for Women with 1.69′′ Large Color Display – ₹4,499
The latest and the best smartwatch for women to buy for individuals who favour a large digital display is the Amazfit Bip 3. Always on display, acts as the perfect calling feature. It has a tonne of health and entertaining capabilities to help you better manage your daily activities.
In the best smartwatches for women, It features a PAI Health Assessment System that combines all of your movements into an one score and measures Spo2, heart rate, anxiety, and rest. In this smartwatch, it also boasts one of the longest battery lives—about 14 days—so you can go almost two weeks without needing to charge it.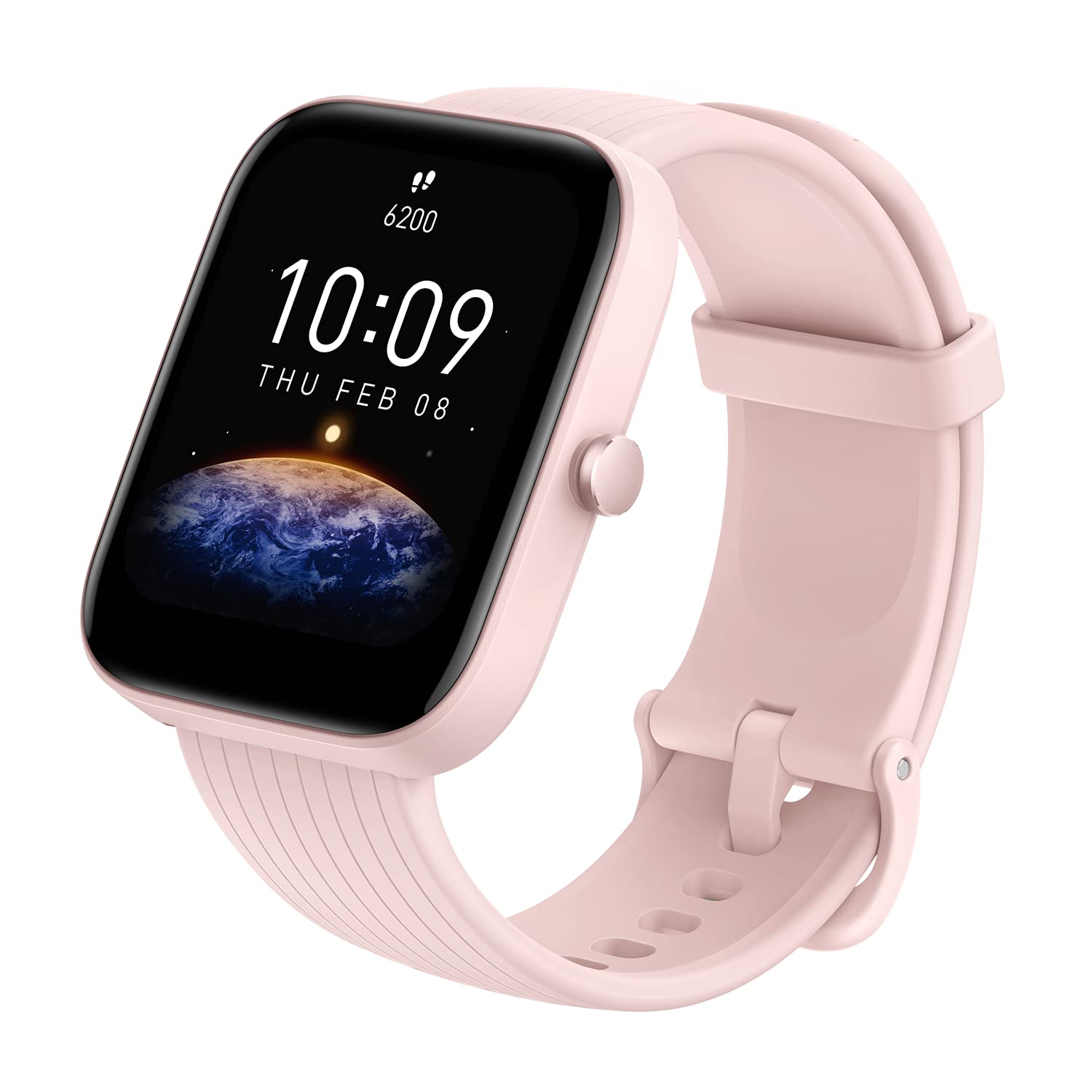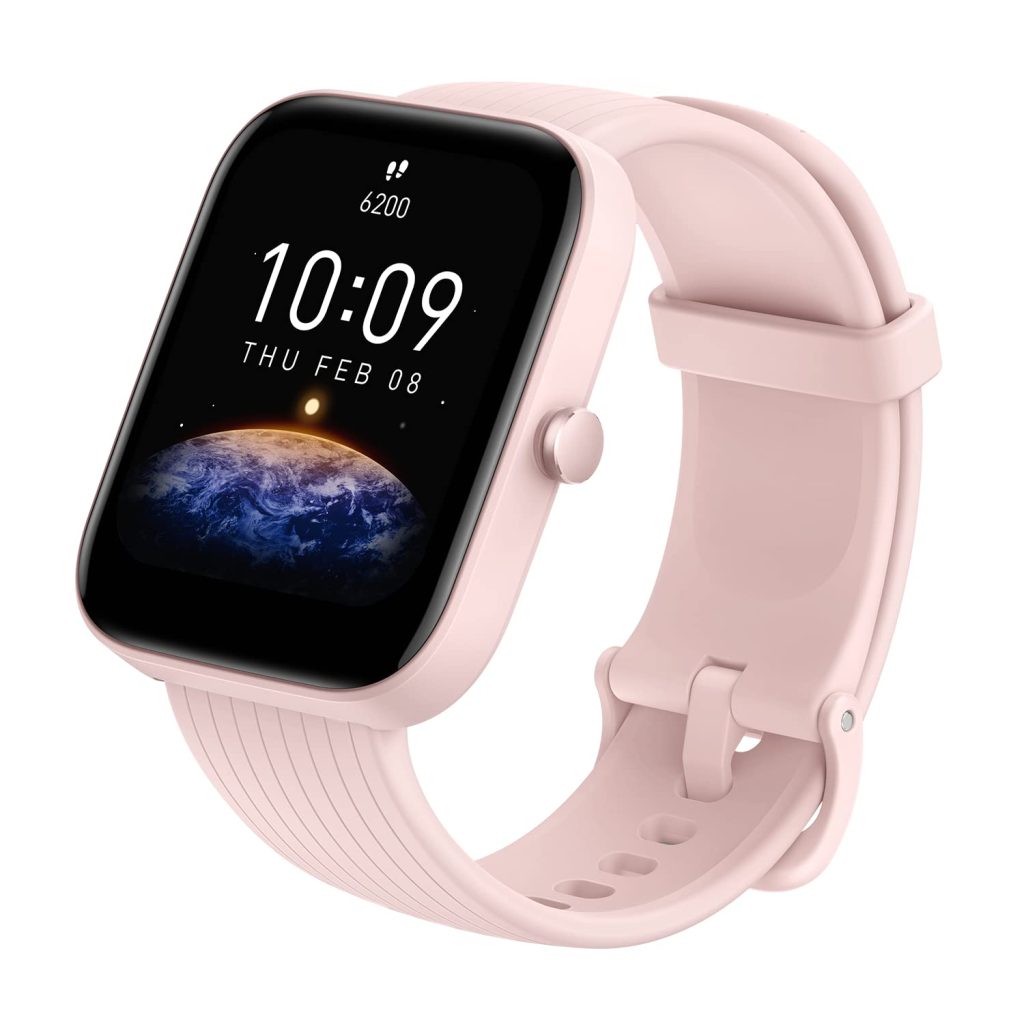 Specifications
Brand: Amazfit
Screen Display Size: 1.69 inches
Compatible OS: Android, iOS.
Colour: Pink
Battery Avg. Life: 14 days
Special Features: 60 Sports Modes, PAI Health Assessment System.
Warranty: 1 year
Pros
Stylish design with a cosy silicon strap.
Gives a score based on all day activities, including games and other activities.
Analyzes sleep and mental stress.
Continuous Heart Rate Monitoring.
sixty sports modes.
Features IP68 Water Resistant, swim-proof.
Cons
Metrics that slightly deviate from the norm.
6. AQFIT W12 Smartwatch for Women with IP68 Water Resistant – ₹2,798
Look out for this chic smartwatch from AQFIT which is one of the best smartwatches for women at this price point. It has functions to support you in keeping yourself in shape as well as always on display. This best smartwatch for women includes a pedometer, drink reminder (water or beer your choice 😉 ), blood oxygen sensor, calorie counter, bluetooth calling & 15 different sports modes.
There are numerous additional intriguing functions that might be helpful in your daily activities, such as camera control, weather prediction, & music control. You can even add different watch expressions to the screen to explore with hip appearances every day.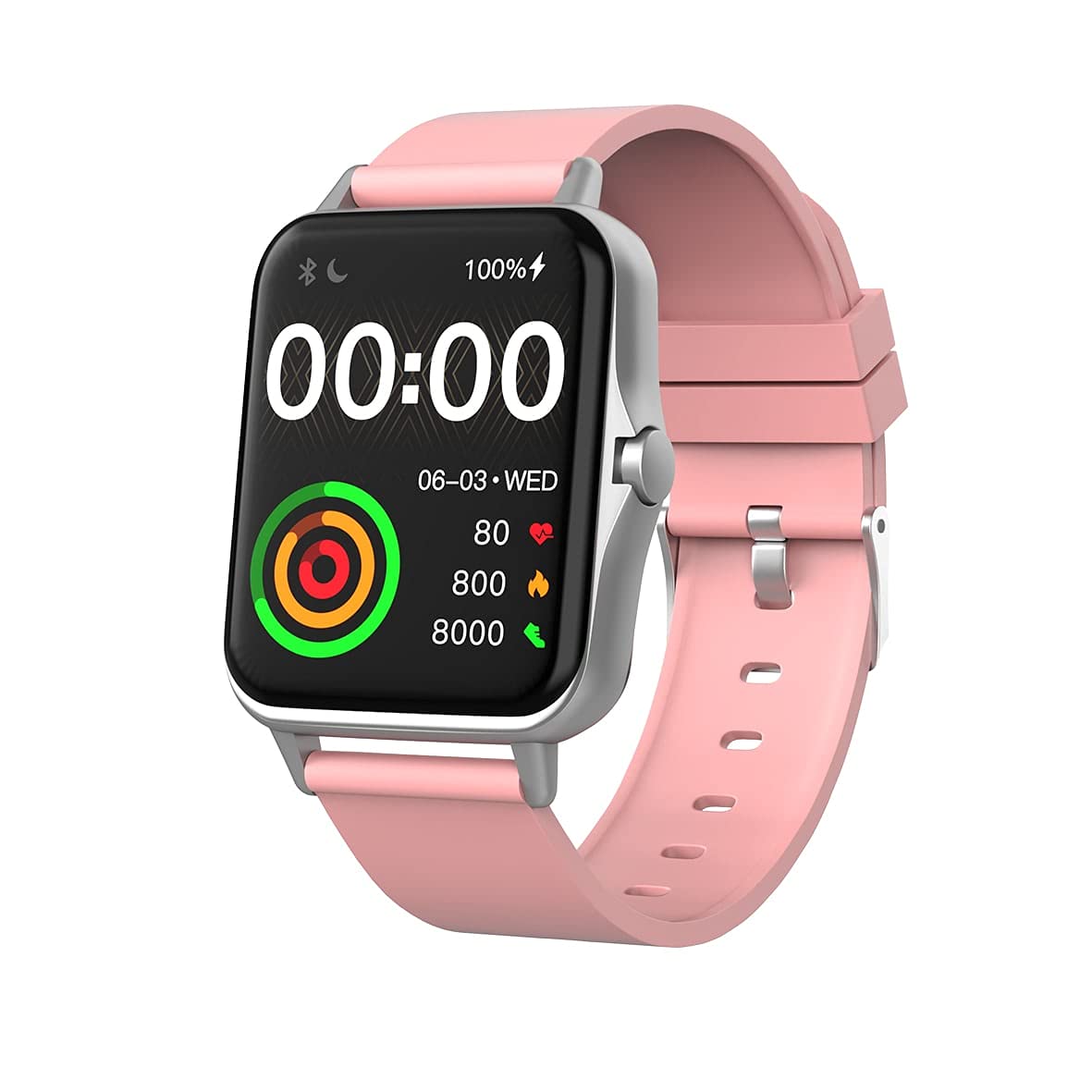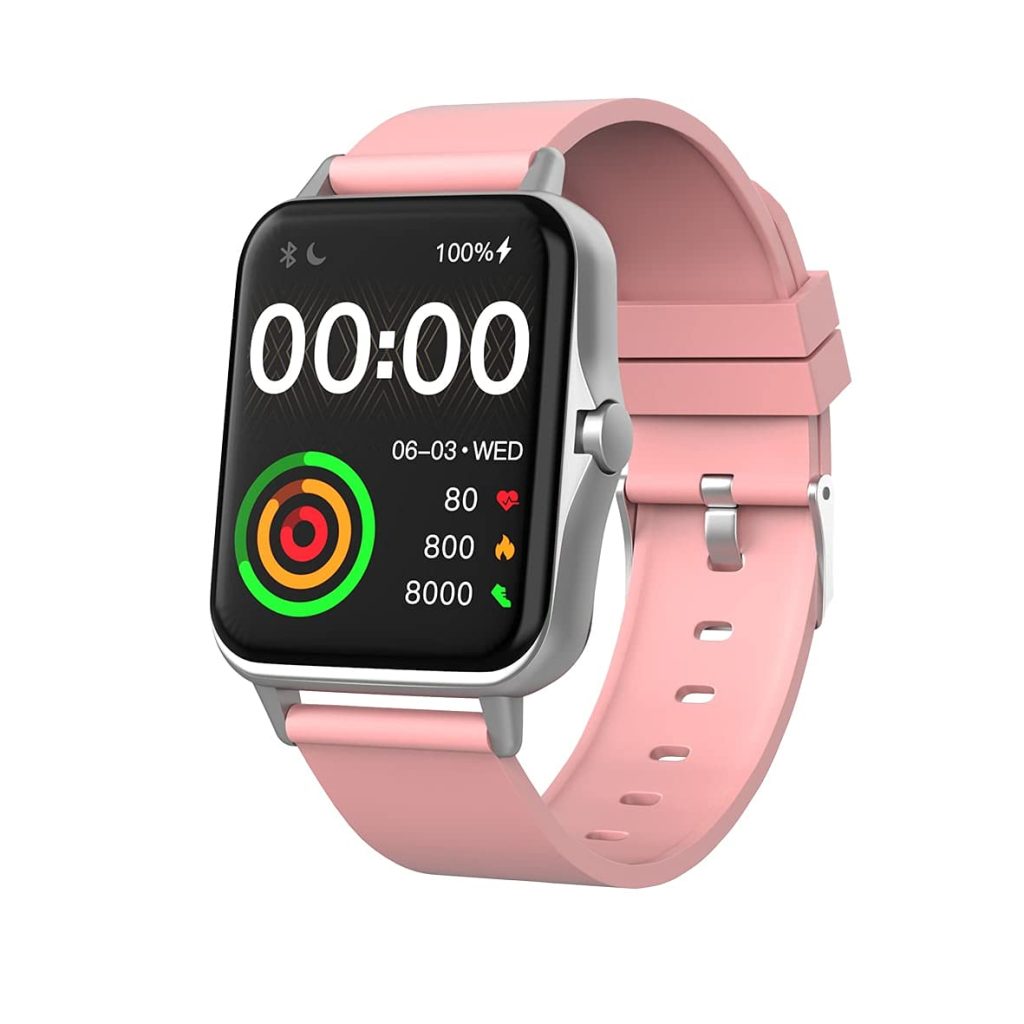 Specifications
Brand: AQFIT
Screen Display Size: 1.69 inches
Compatible OS: Android, iOS.
Colour: Pink
Days of Battery Life: 7 days
Special Features: Wellness Features, Camera Control, Water Reminder.
Warranty: 1 year
Pros
Screen that is big and clear.
A variety of wellness attributes.
Calorie counts, sleep tracking, and water reminders.
Resistant to dust and water.
Sports modes in 15
A powerful yet lightweight body.
A variety of colour choices.
7. Zebronics Zeb-FIT5220CH Smart Fitness Watch for Women – ₹5,999
This is one of the best smartwatches for women for fitness if you are interested in work out as effectively as possible. This is the best smartwatch for women that can track your blood pressure, blood oxygen, heart rate, calories burned, sleep patterns, & numerous other health-related metrics.
With its 8 sports modes, This one of the best smartwatches for women for active users and women starting out heir fitness journey. To get a better customised display, the watch features two navigation styles: List Type & Honeycomb Type. It also boasts 7-day data storage, music controls, a special camera shutter, watch faces & other features as further attractions.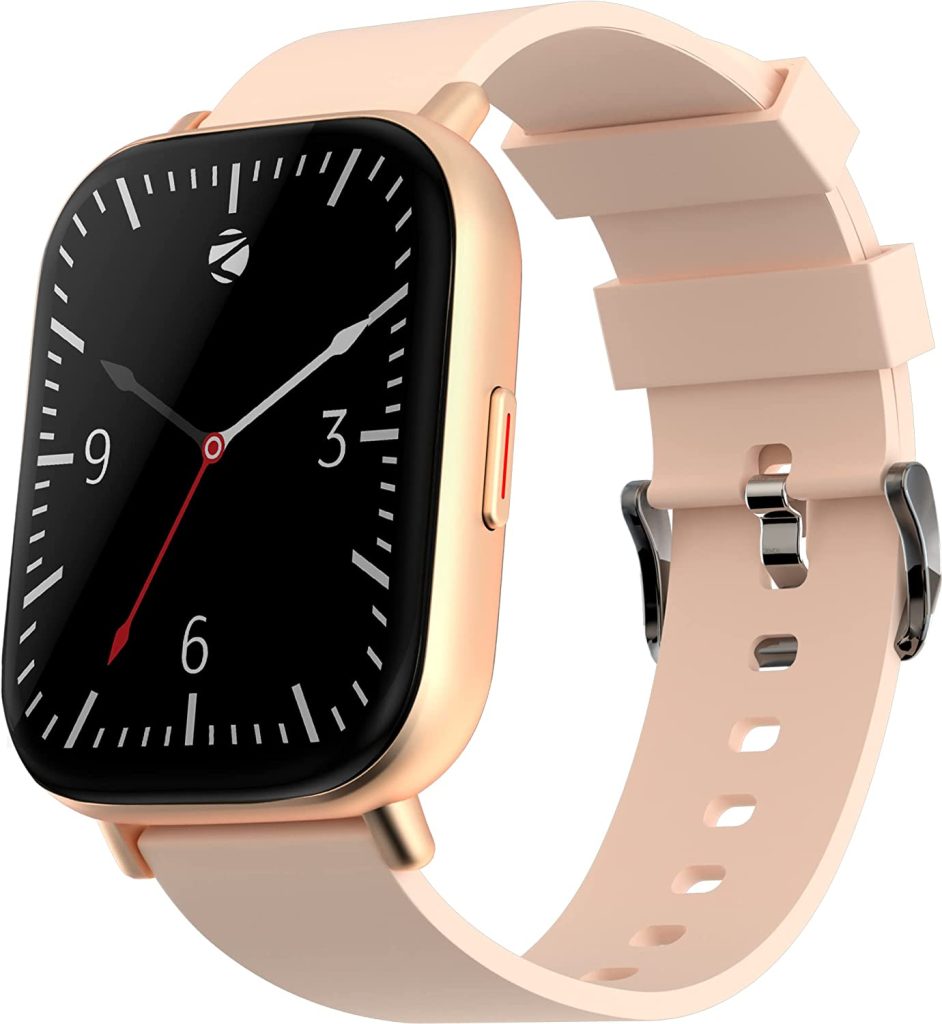 Specifications
Brand: Zebronics
Screen Display Size: 1.75 inches
Compatible OS: Android, iOS
Colour: Gold
Battery Life: 7 days
Special Features: 7-Day Data Storage, 8 Sports Modes, Health Monitoring.
Warranty: 1 year
Pros
2.5D Curved Glass in a stylish design.
8 Sports options
qualities for maintaining health.
many strap choices.
wide-ranging square display.
Dual-Menu UI
Charger dock with magnets.
Cost-effective pricing.
8. Garmin Venu Square – Metallic Orchid Smartwatch for Women:₹16,990
A stylish smartwatch for women, the Garmin Venu Square, accurately represents your irrepressible character. The Watch is available in a stylish metallic orchid that complements your personal taste.
You get access to a variety of wellbeing monitoring software in the watch, including the ability to track your stress levels, your menstrual cycle, and Pulse OX. By providing numerous sports modes and activity-tracking functions, it also enables you to get the most out of your healthy lifestyle.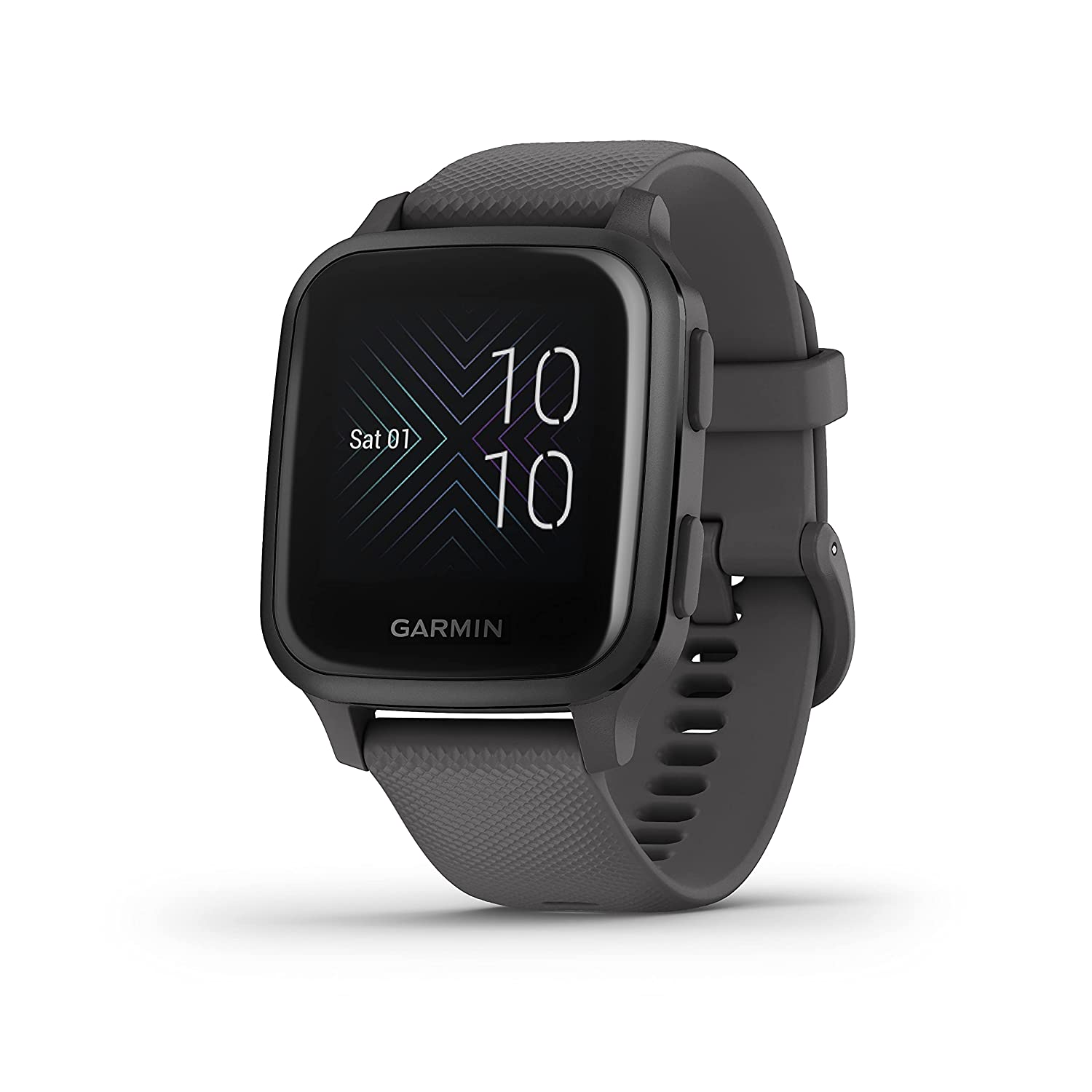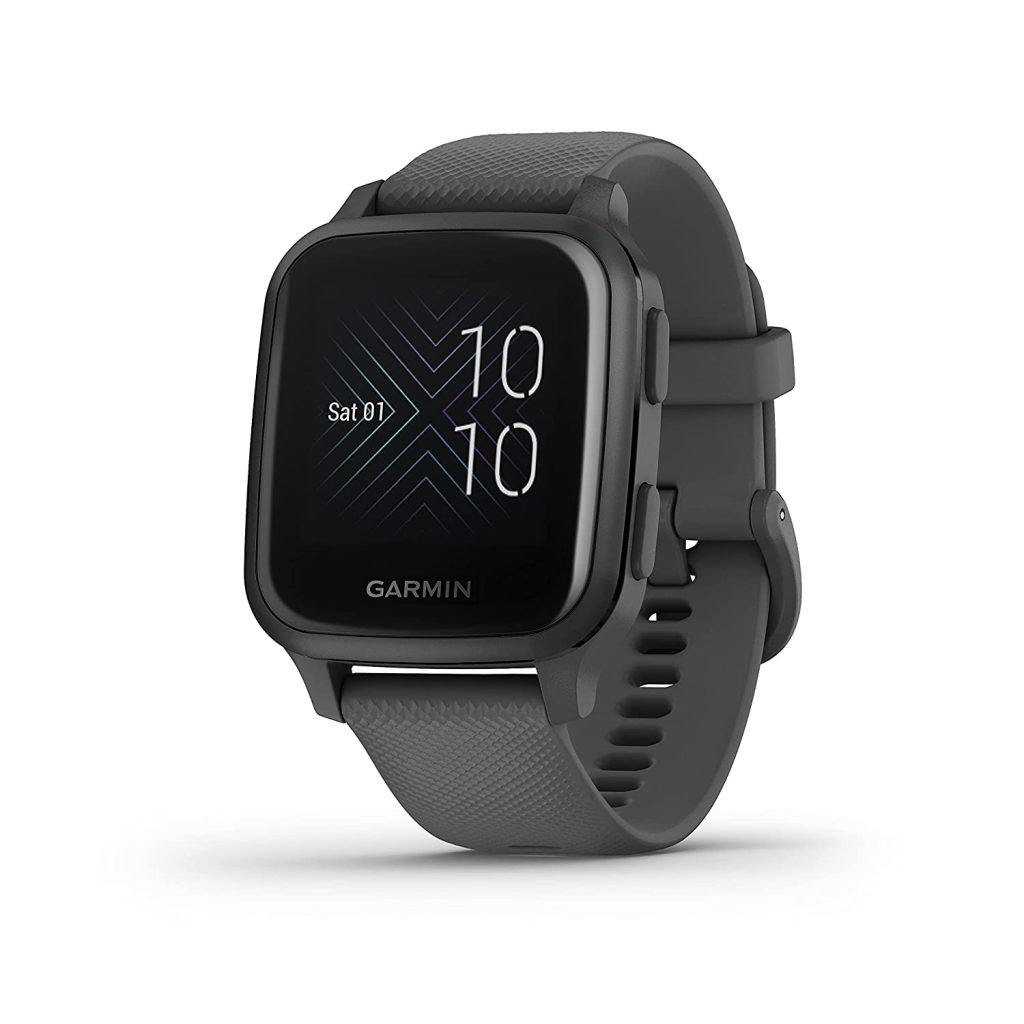 Specifications
Brand: Garmin
Screen Display Size: 1.3 inches
Compatible OS: Android, iOS.
Colour: Metallic Orchid
Battery Life: 14 hours to 6 days (depending on usage)
Special Features: Preloaded workouts, Personal Running Coach.
Warranty: 1 year
Pros
The ideal smartwatch for exercise fans.
Many wellness benefits.
Tracking your breathing and managing your breath.
Sophisticated sleep analysis.
Integrated sports applications.
To 5k and 10k marathons, use Garmin Coach.
Preloaded exercises
Built-in GPS
Cons
Limited app selection compared to other smartwatches
9. Michael Kors Gen 5E (43 mm, Rose Gold ) Women's Smartwatch: ₹25,995
The Gen 5E Smart Watch from Michael Kors is a luxurious smartwatch for women that presents an impressive statement piece if you are looking for the best smartwatch for women with large battery life . The watch's fine rose gold band and dial body with crystal embellishments, radiate great style and elegance. This smartwatch excels in terms of functionality as well, providing a heart rate and activity monitor, Google Assistant, Pedometer, Spo2, Built-in GPS, and Quick Checkout with Google Pay.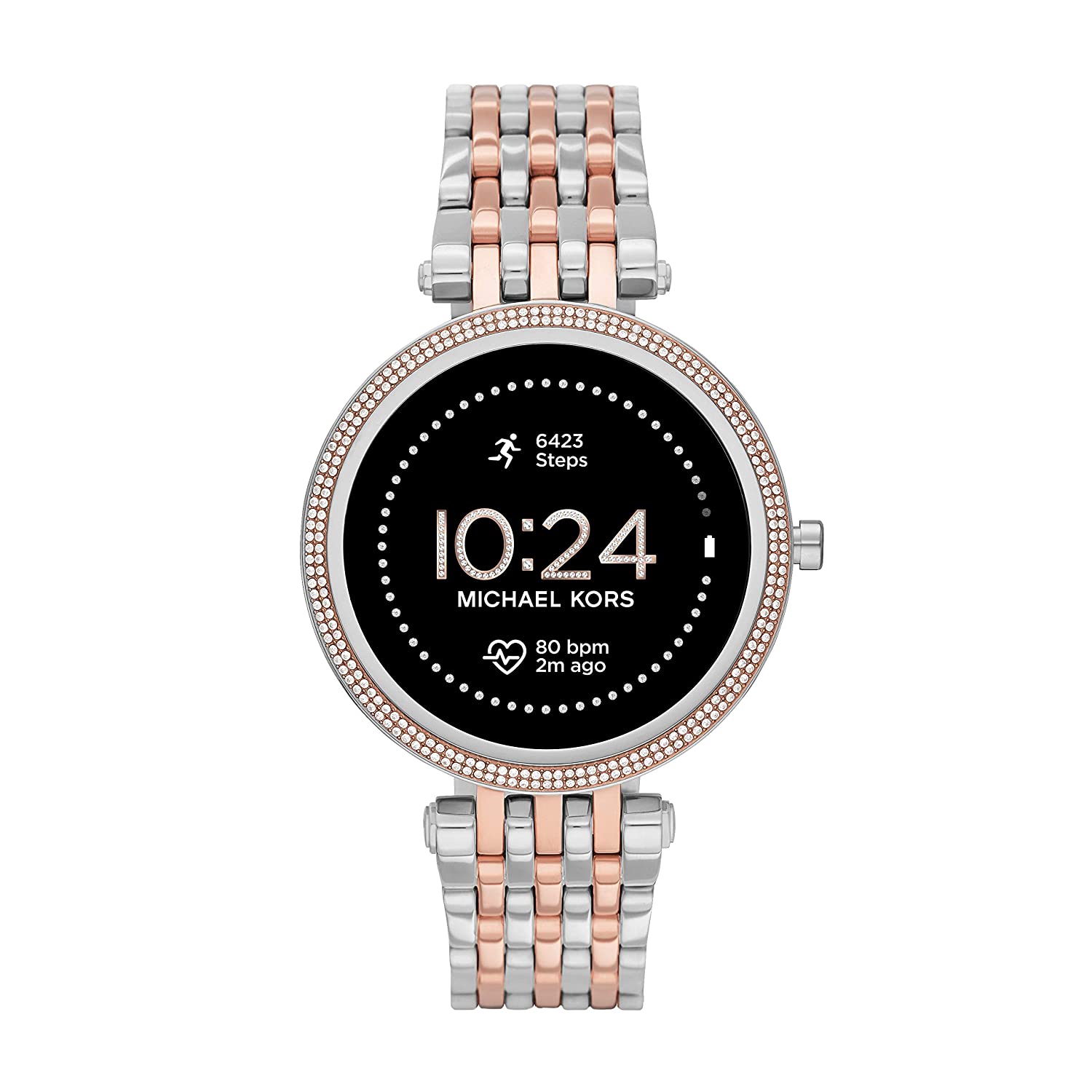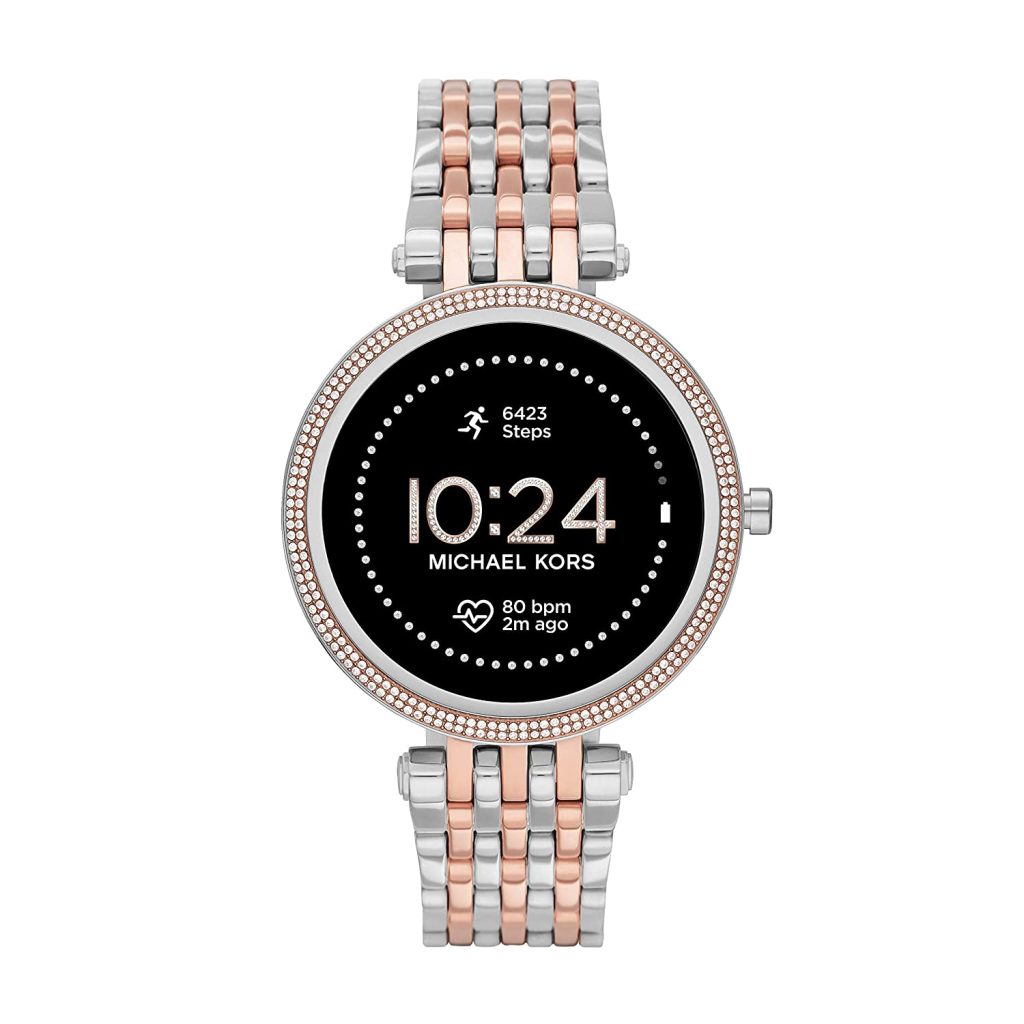 Specifications
Brand: Michael Kors
Screen Display Size: 1.19 inches
Compatible OS: Android, iOS
Colour: Rose gold
Battery Life: 7 days
Special Features: NFC, Wi-Fi Connectivity, Smart Battery Modes.
Warranty: 1 year
Pros
Sexy Feminine Style.
Heart tracker, Spo2, and Pedometer.
multiple possibilities on connecting.
Longer battery life with smart battery modes.
Alternating straps (compatible with MK straps only).
NFC & GPS are built-in.
Google Assistant voice responses.
Cons
Limited compatibility with some apps compared to other smartwatches
Some users may find the watch face too large or heavy for comfortable all-day wear.
10. Noise ColorFit Pulse Grand Smart Watch with 1.69″ HD Display – ₹1,499
Among fashionable women, Noise Colorfit smartwatches are a massive hit. With a wide 1.69-inch LCD screen, this stunning rose pink women's watch provides a rich immersive digital experience. With its ongoing health monitoring, which includes tracking menstrual cycles, the Health Suit function is a tremendous value addition.
You may engage in your favourite activities without concern thanks to the IP68 Waterproof Smart Watch's resistance to water and perspiration. What's best? This smartwatch includes a quick charging mechanism, which is great if you are a women who are constantly on the go!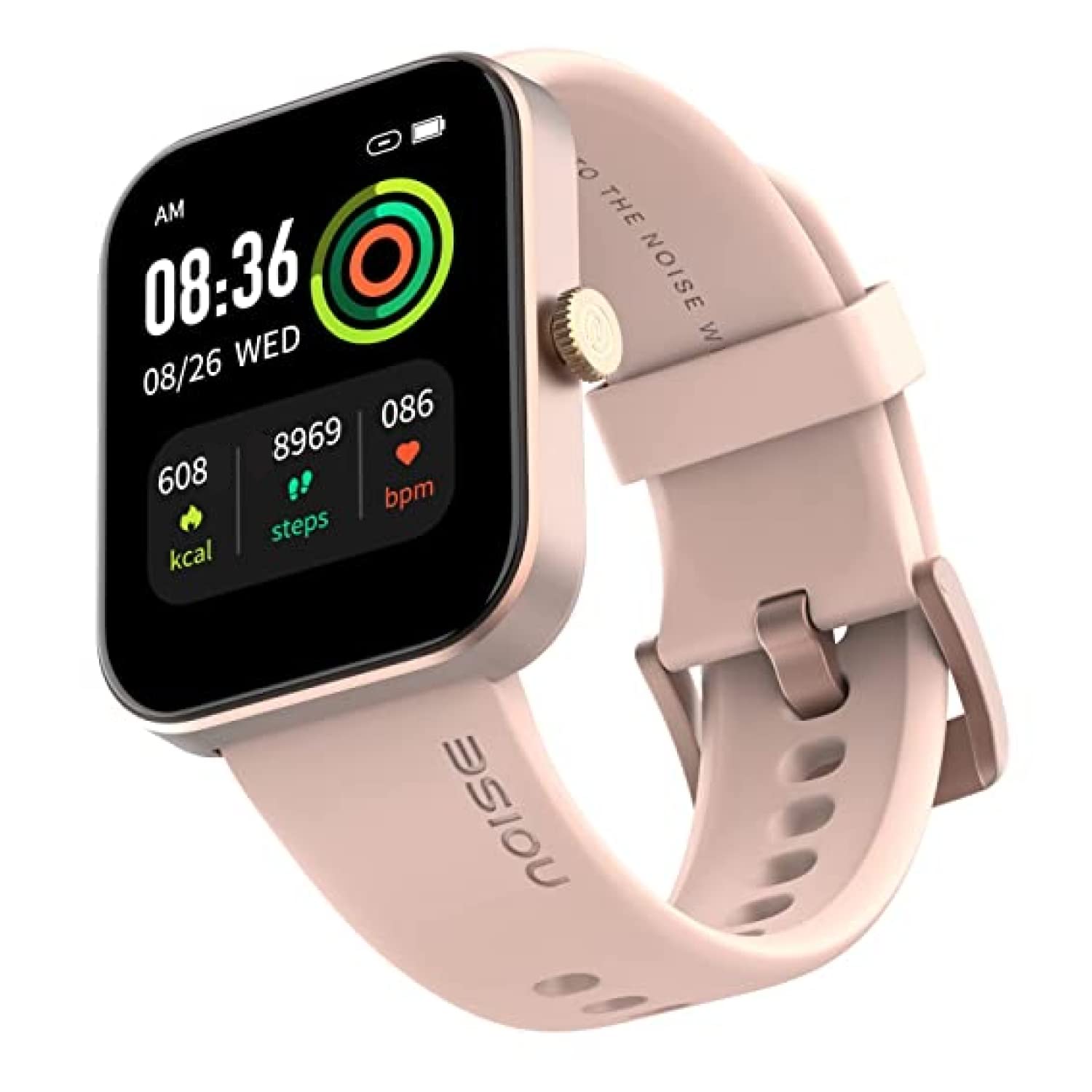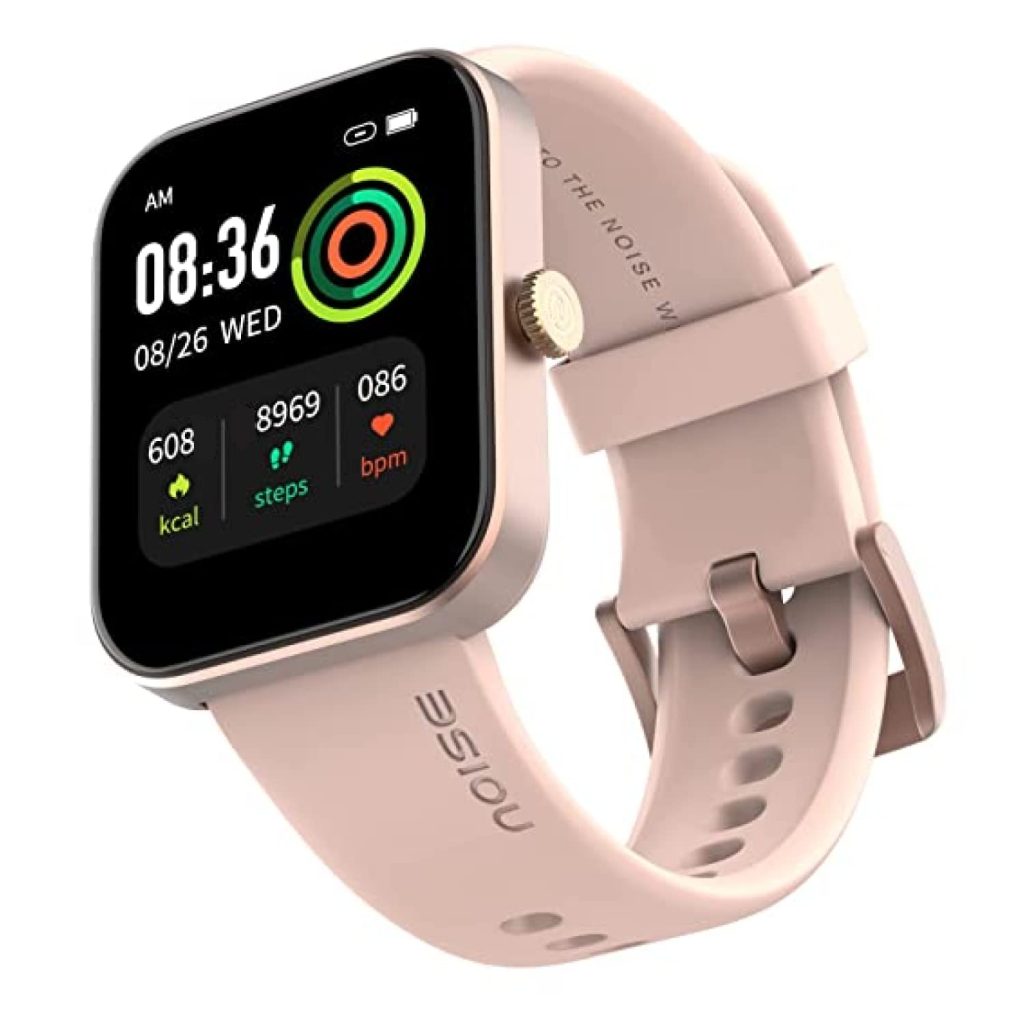 Specifications
Brand: Noise
Screen Display Size: 1.69 inches
Compatible OS: Android, iOS
Colour: Rose Pink
Battery Avg. Life: 7 days
Special Features: Instant Charge, Multiple Sports Modes.
Warranty: 1 year
Pros
Stylish and modern style
several colour choices
large-screen television
Around 60 sports modes
135 watch faces
tracking of menstrual cycles in the health suite.
Quick Charge
Cost-effective pricing.
Cons
With this variation, there is no calling feature.
Which is the best budget smartwatch for women?
There are several budget smartwatches available in the market for women if you are looking for the best smartwatches for women. However, the best one for you will depend on your specific needs and preferences. Here are some options that you may consider:
Do Smart Watches look bulky on women?
Smartwatches come in various styles and sizes, so whether or not they look bulky on women depends on the specific watch's design and the woman's personal preferences. Some women may prefer a larger, more prominent watch face, while others may prefer a smaller, more delicate design.
However, in general, many smartwatches are designed to be unisex and can be worn by people of all genders. Manufacturers are also increasingly offering smartwatches in a range of sizes and styles to cater to different preferences and needs.
Ultimately, it's up to the individual woman to decide whether a particular smartwatch looks bulky on her or not. It is always good idea to try on different watches and see how they look and feel before making a purchase.
Reasons to buy the best smartwatches for women in India 2023
Even though there are various brands of smartwatches on the market most people believe they are useless or just a waste of money. Individuals who believe this lack a good understanding of a smartwatch's purpose and capabilities.
Now we at "The Simple Indian" love our classic mechanical watches even a few quartz 😉 yet we do believe that a smartwatch serves a fitness oriented purpose and it's functionality really depends on the activities of the end user. Other reasons for the popularity of smartwatches are-
It does more than simply display the time
Almost everyone likes to wear watches. Even if they don't do it on a daily basis most people have their formal or dress to impress watch in their wardrobe. With smartwatches the added functionality of text messages, voice assistant and fitness along with 1000's of watch face options is truly irresistible.
A reliable travel companion
Most smartwatches, including the Apple Watch, may vibrate in various ways to let you know whether to drive left or right as you follow the instructions while driving. The majority of users routinely use their Apple Watch or smartphones to determine their location, or they listen to the audio assist that directs them. These innovative functions that come with an Apple watch truly take maps to a more intuitive and deep part of our travel life.
Longer connection to your phone
The batteries in smart watch are strong & can last a long time. With such a single full charge, your smartwatch can engage you for up to 10 days! The fact that you can accomplish the majority of tasks that you carry out on your smartphone with the smartwatch is also part of the charm. So, your watch acts as an additional source of getting the performance of your phone not the go and for a longer time.
Customization options
Everybody wants to look different every day and makes and effort to do so. You can switch out your watch face on a daily basis using a smartwatch. You may customize your watch's appearance in party mode or if you're at work, you can set a professional one. This ability to customize to one's mood and external environment is incredibly intriguing.
There are man more reasons to buy the best smartwatches for women in India such as Social media notifications, Complete Entertainment, Security, Take calls or reply to messages instantly, A good fitness tracker, Can locate your phone or device & much more.
Conclusion
As of April 2023, the market for smartwatches in India has expanded significantly, and there are many options available for women to choose from. In this article, we have discussed the eleven best smartwatches for women in India, taking into consideration various factors such as design, features, battery life, and price.
Please let us know in the comments section below or send us an email via the contact pageat "The Simple Indian" which is your favourite pick out of the list! Remember, we are always here to answer all of your questions and hear your suggestions. Become a part of "The Simple Indian" family today 🙂